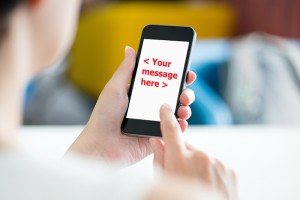 With social media channels like Facebook changing their algorithm so less than 10% of your fans even see the posts you make, it may be time to look at new marketing techniques.  With 90% of people owning a cellphone, you can reach even more people with text marketing.  You don't need to have a smart phone to receive a simple text, since every phone comes with that basic feature.  You can reach people who are not computer or social media savvy through simple SMS marketing.  Here are 4 reasons why texting marketing is better than social media marketing in 2015.
1.  You can segment and target individuals with the simple click of a button.  Organic content on social media struggles to be seen by many of your potential customers causing you to miss out on more opportunities.  With text marketing, you can easily segment your list and target specific campaigns to subscribers who will most benefit from your message.
2. Your ROI will be much higher.  Social media marketing can be great brand awareness, but many businesses don't see much of a return on investment from their social media efforts.  Some text marketing providers offer a free plan to start with so you can test it out with no money upfront.  After the first campaign you can see what a difference the reach is compared to organic social media.
3. It is easier to stand out from your competitors.  The majority of businesses aren't using text marketing so chances of your subscribers getting 10 similar messages in a row from your competitors is very slim.  On social media, competitors can easily show up before, after and more often than your own posts.  Text marketing gets your message right in front of the potential customer without other interruptions from competitors.
4. You have complete control over who receives your messages.  If you segment your lists properly you will know who is receiving your messages, which is similar to email marketing lists.  With social media sites like Facebook guessing who they think should see your message, it can be harder to target the exact people who would be interested in your business.
Social media marketing is still a crucial piece of the online marketing puzzle, but text marketing may be an excellent marketing method for your business to try.